Education
Best International Schools in Ghana
Looking for the best international schools in Ghana to enroll your child, relation, or any child around you. You are on the right blog, worry no more for we got you covered.
We have here the 10 best international schools in Ghana for you to choose from to enroll your child. On this page, you will find the best schools in Ghana to prepare for the International Baccalaureate (IB) and other diplomas, including nursery schools, and primary and senior (high) schools.
Here are the best international schools in Ghana with quality education to choose from.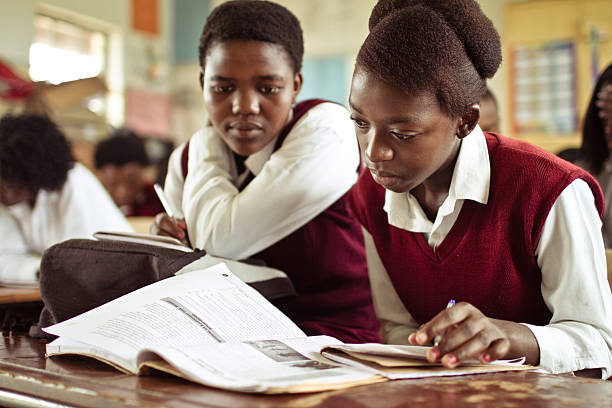 Best International Schools in Ghana
1. Tema International School
School in Tema, Ghana. Co-educational boarding school Tema International School is also a private college.
It provides a post-IGCSE curriculum to enable learners to gain admission to foreign degrees and overseas study.
On Akosombo Rd, beside Afariwaa Farms, Tema is home to the Tema international school. They admit students from age 3-to 18 years.
2. Ghana International School(GIS)
Is one of Ghana's finest international schools, delivering world-class education to children ages 3 to 18.
Kindergarten, Elementary, Lower secondary, Upper secondary. This school is a non-profit, private, non-sectarian, co-education day school founded in September 1955.
To provide academic exposure to pupils of all races and nationalities. GIS continues to give an excellent education to domestic and international students in a unique, more highly competitive environment.
GIS offers a curriculum structured after the English National Curriculum and Cambridge International Examinations, IGCSE, and GCE Advanced Level. Ghana International School is also the first international school in Ghana to be approved by CIS and NEASC (NEASC). This school is a partner of AISA (AISA). GIS enrolls 1400 learners across 50 countries as of September 2015.
3. Soul Clinic International School
Students between the ages of 4 and 16 can attend Soul Clinic International School, a co-educational private mission school. The IGCSE (International General Certificate of Secondary Education) is just one of the many exams they help students to study for.
But they also help them build the self-esteem, competence, and lifelong learning they'll need to succeed.
Innovative and dedicated teachers deliver their curriculum, ensuring that every student reaches his or her maximum ability during their time at the school and even beyond.
Approaches regarding learning are also crucial, and they encourage students to enjoy challenges, collaboration, and working both individually and collaboratively. They have Kindergarten, primary, and secondary sections.
4. German Swiss International School
GISA Accra is one of the 140 "German Schools Abroad" schools recognized by the German government in conjunction with the GISA Parents Association to promote German cultural heritage in other countries.
To be acknowledged as a "German School Abroad" by the worldwide network of German schools, the Cambridge International General Certificate of Education (CIGCE) is available for their students from nursery school onwards. The institution has been in operation for more than 50 years.
5. SOS-Hermann Gmeiner International College
The SOS-Hermann Gmeiner International College in Tema, Ghana, teaches people from Africa, America, Europe, and Asia.
The institution educates Pan-African leaders of tomorrow for top colleges worldwide. Alumni attend Yale, Harvard, Dartmouth, Stanford, MIT, Edinburgh, British Columbia, and Cape Town. Hermann Gmeiner provides two programs. In a four-year program, students complete IGCSE during the first two years and IB in the last two.
6.  Vilac International School
Founded in 2008, The Vilac International School provides the Cambridge International Examinations (CIE), the Ghana Education Service (GES), and British curricula to keep pace with the ever-changing global landscape.
There are two campuses of Vilac International School. Located in East Legon and Achimota, respectively. It encompasses grades 7 through 13, as well as grades 1 through 3 of secondary school.
Students in grades 9 through 11 can take Security Checkpoint (now known as Cambridge Secondary 1) and the International General Certificate of Secondary Education (IGCSE). Form 3 students at SHS take the IGCSE test in May/June (WASSCE). Along with the AS/A level, sixth-form students have the option of taking the AS exam.
7. British International School
Created to give exceptional, cutting-edge credentials that satisfy the currently underway needs of employers and educators in Ghana, as well as providing an excellent education for people of all walks of life and from any political or religious connection or ethnicity, or social background.
The school was officially launched in September 2007. In total, the school has three divisions: a Kiddie College, a Primary School, and a Secondary School.
To fulfill the demands of today's constantly expanding and diversified global population, the British International School, Ghana, is a premium world-class international school that provides a superior British International curriculum.
Primary and secondary schooling at BIS is based on the University of Cambridge International Examinations Syllabus.
8. Lincoln Community School
This school is certified by the MSA and COLS and a member of AISA and is situated in Abelemkpe, Accra.
As an independent, not-for-profit preparatory college as well as an international school, this institution fits that description.
The school is home to a considerable proportion of Ghanaian-born students. Preschool through 12th-grade studies are available at Lincoln Community School, where English is the primary medium of teaching.
By the International Baccalaureate (IB), Lincoln Community School offers IB-accredited programs in the primary years, middle years, and diploma programs (IB).
Two semesters run from August to December and January to June, respectively, and there are also four evaluation periods throughout the school calendar.
9. Spring forth International School
At Spring forth, they deeply care for each child in a safe, exciting atmosphere. Their rigorous academic program, which follows the English National Curriculum, is complemented by a vast array of recreational and sports programs. They support each learner's cognitive, moral, physical, psychological, and spiritual maturation.
As a Christian school, our religion and values guide learning and teaching and guide staff and student relationships. This is a joyful school with a can-do attitude.
Spring forth Community School was formed in 2006 by two American working moms who saw the need for more inexpensive, international-standard nursery and pre-school programs in East Legon. Spring forth grew from one structure to a four-building campus.
Spring fourth Community School serves childcare throughout high school. Leisure activities are also available.
10. American International School
This school, which opened its doors in 2006, offers an international curriculum. Children from Pre-K3 through 12th grade have access to AIS's American syllabus.
There is a limited transportation service provided by the school. In addition to being a participant of the Network of International Christian Schools (NICS), it's been recognized and accepted for candidacy by the MSA and the ACSI.
Accra's East Legon neighborhood is home to the American International School.
Conclusion
The listed schools above are schools with quality education for your kids in Ghana. There you have your child well-taken care of and nurtured.